** UPCOMING EVENTS**
We're busy rehearsing some fabulous new songs.  Our concert on the 18th July 2020 will have a nature theme to all the pieces and we're raising funds for one of our favourite charties  – More details to come soon!
---
*RECENT EVENTS*

After a sell out and standing room only, we're really pleased to tell you we raised £800 for the Garden House Hospice.
There are clips from our concert on our FaceBook page, please drop in and follow us so you get all the news first!
Other events:
Thursday 28th November  – singing at Hitchin Garden Centre for their Christmas Extravaganza 6pm
Wednesday 4 December – North Herts Centre for Voluntary Service – singing at this group's Christmas evening as a 'thank you' for all the assistance they give all our voluntary groups.
Saturday 7 December 12noon – Wilbury Community Cafe – Christmas Fayre, Garden City Singers is delighted to return to this venue and show our support for other local good causes
Wednesday 18th December at 7pm – Christmas Carols with our seniors – at Macfadyen Webb care home in Letchworth at 7pm
Past Events in 2019

Awesome Autumn Concert- Saturday 21 September 2019 starting at 7.30pm  –  Letchworth Free Church- raised £500 for Marie Curie.
Saturday 21 July – celebrating 150 years of Walsworth Road Baptist Church in Hitchin – afternoon contribution to the Church's One Fine Day event – from 10am, GCS at 3pm.

Saturday 1 June at 7.30pm – was our joint charity concert with the Cambridge City Brass Band at Letchworth Free Church.
Over £2000 was raised for the Lister Neonatal Big Build, for better facilities for parents with babies in Neonatal care.  GCS was conducted by our Consultant MD – Stuart Elliott.

Past Events 2018

Wednesday 19 December – Singing with the Seniors
Back to Providence Court Care Home in Baldock for our Christmas Carol singalong.
15 December 2018 – Our Christmas Concert at 7.30pm
At Letchworth Free Church, supporting Garden House Hospice, during the Christmas Tree Festival weekend.  Garden City Singers performed a host of Christmas classics and some choral faves! Audience participation was guaranteed and there was mulled wine and mince pies for all.  Over £1400 was raised for the Hospice over this Christmas Tree Festival weekend, including hundreds from Garden City Singers' and their audience.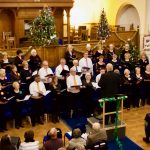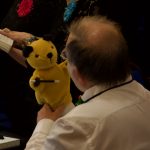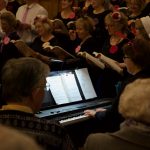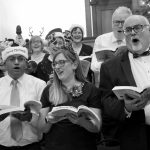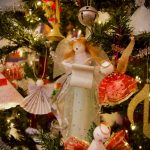 Monday 10 December – Rotary Club Christmas Dinner
Our 3rd invitation to sing with these charity loving gents and their ladies for their celebratory dinner. The organiser said "Thank you for a GREAT night's entertainment.  We all loved it.  And the opening certainly made a few people wonder what was happening – Mission accomplished!"
Saturday 1 December – Wilbury Christmas Fayre
Returning to St Thomas', Bedford Road to entertain those visiting the Wilbury Community Forum's Christmas Fayre – we received this feedback from the organiser – "These amazing singers came to our community cafe, and made it such a special event, beautiful singers, and even got people singing along too!! Really magic morning"
Saturday 6 October – Singalonga Saturday
At Trembaths Care Home, Letchworth from 2.30pm.  Our popular Singalonga event with our treasured seniors comes to Trembaths this Saturday.
Saturday 15 September
At Garden City Court, Whiteway Letchworth from 11am, back for our second visit this Summer, we loved lifting the spirits of our valued seniors.
Saturday 8 September – back for the 4th year running
Our FREE cream tea concert at Dunton Parish Church raised over £100 in aid of the Church fabric fund.
14 July – Something Old, Something New Summer Concert
The charity chosen to benefit from this event was Macmillan Cancer Support and we were so pleased to raise £350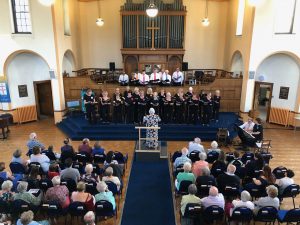 30 June
Garden City singers were  proud to take part in an event commemorating our fallen men and women, singing in Broadway Gardens as part of Armed Forces Day.
23 June
We were delighted to celebrate the 80th Anniversary of St Thomas' Church Wilbury, performing at a fund raising event for them on Saturday 23 June.  Not only was nearly £300 raised for Jackie's Drop in Centre, funds were raised for the church fabric and a donation was made towards our chosen charity – Macmillan Cancer Support.
Autumn Winter 2017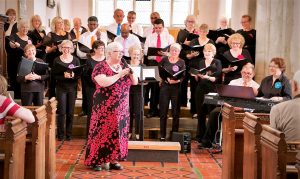 Then on the 10 November at St Francis' College we helped celebrate 30 years raising funds for the Kanyike Project.  Garden City Singers opened the show which was included many other artists and performers and helped contribute towards much needed funds for one of our favourite causes.  More details available here.
Other events over the Christmas period included:
Sunday 3 December 2017 at Letchworth Free Church at 4pm
Our Christmas concert, this year featured the Biddenham Hand Bell Ringers.   Find out more about Biddenham Hand Bell Ringers here.  Photos coming soon!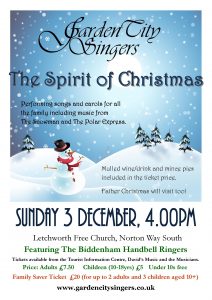 Tuesday 12 December for the Christmas Party of Letchworth's WI
We sang for these lovely ladies, who enjoyed joining in the fa la la!  Booked to sing for them again in 2019 already.
Wednesday 13 December at Providence Court Care Home, Baldock
One of our favourite places to visit at Christmas, we sang carols with the residents again this year and had so much fun we went to their sister home at Garden City Court on Friday 15th December.
Singing at Sainsbury's, Letchworth Retail Park 17th and 20th December.
For our third consecutive year we are sang in Sainsbury's Letchworth to raise funds for their chosen charity.  In 2017 they supported Heathlands Animal Sanctuary. For more info about this charity click here.
Lots of lovely customers generously donated to this charity and joined in singing and ringing the Jingle Bells.