Summer 2018
23 June 2018
We are delighted to celebrate the 80th Anniversary of St Thomas' Church Wilbury, performing at a fund raising event for them on Saturday 23 June from 7pm as part of the Letchworth Festival.
14 July 2018 at 7pm
We will also be hosting our own Summer Concert at Letchworth Free Church in the evening of Saturday 14th July, so save the date!
Autumn 2017 got off to a flying start when we performed our 3rd annual cream tea fundraising concert at Dunton Parish Church.  Almost £200 was raised for the church fabric fund.
Then on the 10 November at St Francis' College we helped celebrate 30 years raising funds for the Kanyike Project.  Garden City Singers opened the show which was included many other artists and performers and helped contribute towards much needed funds for one of our favourite causes.  More details available here.
Other events over the Christmas period included:
Sunday 3 December 2017 at Letchworth Free Church at 4pm
Our Christmas concert, this year featured the Biddenham Hand Bell Ringers.   Find out more about Biddenham Hand Bell Ringers here.  Photos coming soon!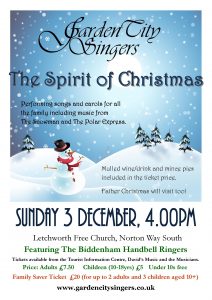 Tuesday 12 December for the Christmas Party of Letchworth's WI
We sang for these lovely ladies, who enjoyed joining in the fa la la!  Booked to sing for them again in 2019 already.
Wednesday 13 December at Providence Court Care Home, Baldock
One of our favourite places to visit at Christmas, we sang carols with the residents again this year and had so much fun we went to their sister home at Garden City Court on Friday 15th December.
Singing at Sainsbury's, Letchworth Retail Park 17th and 20th December.
For our third consecutive year we are sang in Sainsbury's Letchworth to raise funds for their chosen charity.  In 2017 they supported Heathlands Animal Sanctuary. For more info about this charity click here.
Lots of lovely customers generously donated to this charity and joined in singing and ringing the Jingle Bells.